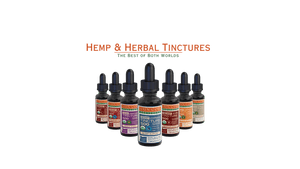 Our hemp tinctures are formulated and compounded with medicinal herbs to help support the body's systems and address specific body needs. Extracted using a slow, cold-process method practiced by herbalists for a thousand years with organic sugar cane alcohol and organically grown herbs - then expertly combined with hemp and vegetable glycerin.
Ra Hemp Tinctures feature Oregon-grown hemp-only extracts blended with either vegetable glycerin or certified organic MCT oil and natural citrus flavors. Ra Hemp Tinctures offer the perfect cannabinoid-rich option for those with sensitivities to other herbs.
Looking for an herbal tincture without the hemp?  We also offer a variety of herbal compounded tinctures in our Airmed Digestive Relief, Aja Body Relief, Eir Women's Health, Heka Mental Ease, Hercules Muscle Ease, Hypnos Sleep Aid, Panacea Immunity Aid, and Virtus Men's Health product lines.
We also offer a full line of single-herb extract tinctures in our Ra Herbals line,
available here
.