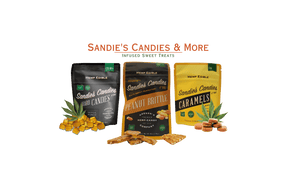 Sandy Thompson was renowned in Southern Oregon as the co-founder of Sandie's Candies & More, a cannabis-infused candy company she started in 2014 with her husband, Dale Thompson.  Sandy's mission had always been to help others, and she got started on the path to offering cannabis-based relief to countless people all over the state of Oregon back in the 1970s when a friend was diagnosed with cancer.  Later, in 2014, Sandy and her husband Dale officially started Sandie's Candies & More, and began offering their products to medical marijuana patients through Oregon's OMMP program.
In 2018, Sandy and Dale Thompson licensed the Sandie's Candies brand to Sun God Medicinals.  Today, we manufacture hard candies, peanut brittle, and caramels infused with CBD under the Sandie's Candies & More brand. These products are currently available to order nationwide.

In mid 2019, Sandy Thompson succumbed to an illness she had been battling.  Sandy Thompson passed peacefully in her home surrounded by loved ones.  Sun God Medicinals plans to continue to manufacture the Sandie's Candies & More brand with respect and honor to Sandy Thompson's legacy.  "Supporting family businesses is paramount to our mission at Sun God and as cannabis legalization moved forward not all legacy cannabis entrepreneurs were able to transition," said Brie Malarkey, CEO of Sun God Medicinals. "Sandy was one of the most compassionate and kind people I have met. We are happy to continue her vision. She was the ultimate sweet angel baby and now she rests in peace."
2 products
Sale